På styremøtet torsdag 7 januar ble det besluttet å avlyse det planlagte Internasjonale Indian Rallyet 2021, i Seljord. Grunnen er, som dere sikkert skjønner, Korona situasjonen i Norge og Europa. Det er med tungt hjerte vi gjør dette. I går ble det sendt et informasjonsbrev til lederne i de europeiske klubbene. I utgangspunktet var tanken å la nyheten synke inn hos disse for så å informere våre medlemmer, men der undervurderte vi nyhetsfeeden hos Facebook.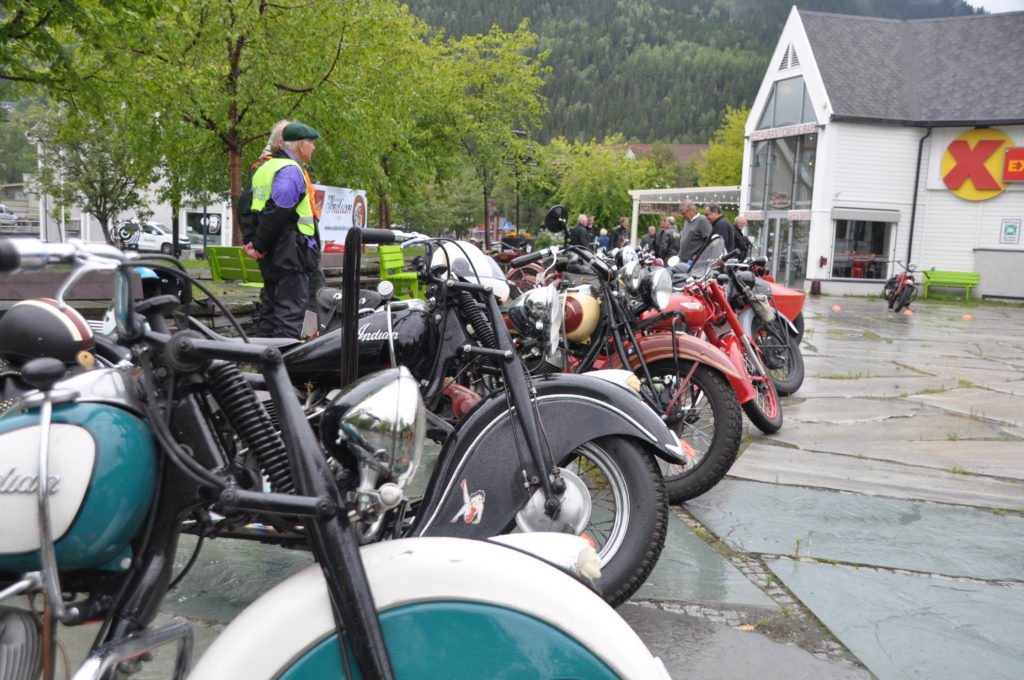 La oss forklare hvordan vi ser situasjonen. Etter Indian Summer Meet i fjor så det ut som Norge og enkelte land i Europa gikk mot en bedring i smitte og innleggelser. Det ble gjort lettelser i forhold til smittevernregler, man kunne samles i større antall, og den generelle tendensen var positiv. I NIK,s arrangementskommité for 2021 ble planleggingen intensivert, kontrakten med Dyrskun ble ferdigforhandlet, men ikke signert. Alt pekte mot et godt treff i 2021.
Så, rundt årsmøtet vårt, i begynnelsen av november skjedde noe; Erna gikk ut fredagen før årsmøtet vårt, ut med nye restriksjoner. Disse skulle iverksettes påfølgende mandag. De hadde åpenbart sett starten på en ny smittebølge. Dere kjenner hva som hendte, i ettertid; smittetall og innleggelser har økt raskt. Vi er oppe i tall tilsvarende hva vi hadde i mars 2020, med økende tendens. Og Europa er "helrødt", Sverige sliter, Danmark er stengt, for ikke å snakke om England, Frankrike, Belgia, Nederland, Spania, Tyskland.
På den positive siden har man nå igangsatt vaksinering av befolkningen. Dette er lyset i tunnelen. Men for vårt arrangement kommer det for sent. Det er vanskelig å spå, særlig om framtiden, blir det sagt. Vi må nå avvente at befolkningen vaksineres i hele vårt kontinent. Dette tar tid, og effekten av tiltakene har en viss "treghet". Hva er situasjonen i august? Trolig er man fremdeles pålagt reiserestriksjoner, testing på grensene og karantene ved innreise. Dette vet vi selvsagt ikke sikkert, men det vi vet er at ferjer og flyforbindelser pr. idag ligger nede for telling, og vil ta tid å få i normal virksomhet. For våre "gjester" på et Seljord treff vil dette bety at reiseplanleggingen blir ekstra vanskelig. Nok sykdomsprat.
Ola har laget et budsjett for Seljord og i det ligger det et "break even" deltagertall på 250 personer. Dette er budsjettert ut fra at vi leier Dyrskun-plassen med et betydelig beløp og må dekke inn dette. Vi tror ikke vi klarer 250 deltagere ut fra situasjonen vi har til sommeren. Hvis vi ikke hadde hatt økonomiske forpliktelser, hadde vi kanskje kunnet sitte på gjerde og vente i noen måneder til. De få reaksjonene vi har rukket å få, fra de europeiske klubbene, er faktisk positive. Det kan virke som de har ventet på en slik avgjørelse og sett det komme.
Som vi skrev i brevet til presidentskapet håper vi på en utsettelse av vårt treff til 2023. Nederland skal ha sitt rally i 2022, og Tsjekkia skulle egentlig være neste land, i 2023. Men nå må det ble en diskusjon rundt fortsettelsen. Vi skjønner at mange er skuffet over dette, men vi må ta inn realitetene, og sikte framover.
Information in english:

This is the e-mail sent to the European clubs:
Indianfriends.
First of all; we wish you a happy new year. A fresh start with hopes for a better year. This is a very difficult letter for me to write, and some of you might have guessed the content already. On a board meeting 07.th of January we decided to cancel the International Indian Rally 2021 and postpone to another year, perhaps 2023. We deeply regret this, but we could not see how to pull this trought, due to the current pandemic situation. I will explain:
As we reached summer of 2020, the Covid situation i Norway and in some other countries looked brighter. The Goverment allowed small gatherings and arrangement, with some control of distancing and hand wash. Things were looking better and we really believed that by the end of the year, things were opening up. We even had danish visitors (!) on our Indian Summer Meet.
Something happend in November; the infection rate suddenly pointed upwards. It was the second wave, and today we have an infection rate simular or larger than in March 2020. Luckily we now have started the vaccination of the population, but these things take a lot of time to make effect on a large basis. As we see now, most of the European countries have the same challenges; Sweden is struggeling, Denmark has shut down, UK, France, Belgium, Spain, Italy have a massive infection rate. Borders are closed and restrictions applied.
This is how it affects our Rally: We have made detailed plans for the rally and presented the concept in International Indian News in 2020. In fact, the process started already in 2018, when the president meeting handed us 2021. The work was intensified this autumn, believing that the situation would normalize during the winter. Catering was planned, meetings with representatives from the rally site, music and entertainment booked. Now, in January 2021, we see that the pandemic situation is not improving.
Of course, it is always difficult to predict what the situation will be in August, but we will hardly be back to what we had before 2020. To be honest, we don´t even think we can travel across European borders in August, without quarentines and major Covid testing.
To make ends meet, and have a break even for the rally, we need 250 participants. This will not be realistic in the current situation, or in August, for that matter. We are truely sorry we have to cancel, but we hope that you understand our decicion.
Looking forward to see you all in Netherland in 2022, and we hope that we can postone our rally to 2023. Then, with no other «virus» than Indian motorcycles. Stay healthy!
Greetings
Norsk Indian Klubb – The Norwegian Indian Club
Stein Fossheim – president